BandLab
Helping musicians find bandmates.
—
Introduction and my role
—
I led the Product Design, UX, UI, and User Research for this project. The project was developed as part of the Masters in UX Design program at the Maryland Institute College of Art. MICA UX MPS faculty advisors: Christine Chiang, Arkadiy Avrorov, Logan Perez.
Activities and roles included:
1. Business and UX strategy
2. Product management
3. Research, analysis and user insights
4. Personas, storyboards, journey maps
5. Wireframes and UI
6. Prototyping
7. Usability tests

Project timeline: 01/15/22 - 05/05/22.

---
The Challenge
—
Many musicians want to collaborate with other musicians but lack the network to do so. At the same time, the pandemic has uncovered the potential for remote collaboration:
It expands networks beyond a geographic location, increasing exposure to diverse perspectives.

It exposes artists to a collaborators fan base, and vice versa. Larger audiences = greater chance of getting discovered.

It opens doors to further opportunities: more gigs and possible industry contacts.
---
Problem statement
—
How might we help musicians and music creators who do not have an established network, find 
and connect with other musicians and music creators?
"The more experienced I get the more focused my music ideas are, which makes it harder to find people to collaborate with. Finding artists that fit a similar vision is tough."
-User Participant 2
---
Early insights
—
A
competitive analysis
was performed to gain a better understanding of the problem area and existing solutions.
Link to full competitive analysis:
https://docs.google.com/spreadsheets/d/1wEBxqFBsJo89fsomPJFdFDhj8yBfuhemGX-sJpUhVW8/edit?usp=sharing
Findings:
Musicians use informal solutions such as sub-groups in Reddit and the platform Kompoz to find collaborators indicating a clear need, however the platforms do not offer specific tools to help musicians search for and evaluate potential collaborators.
Many existing solutions (Soundtrap and Vocalizr) offer good user experiences but are targeted towards professionals and are based on monetary exchange.
Many existing solutions require the purchase of proprietary technology (Landr, Avid and Soundtrap).
Opportunity:
A number of solutions already on the market attempt to help musicians develop networks and identify potential collaborators, however most of these are targeted towards professional musicians, so there is room in the marketplace for an
free,
easy-to-use solution targeted towards amateur and aspiring musicians
.
---
Digging deeper

—
To better understand my target audience's goals, needs, challenges, and habits, I conducted
1:1 interviews
and a
survey
with aspiring and professional musicians.
Interview goals:
How do musicians currently find collaborators?
Why do musicians collaborate?
What are the characteristics of a successful musical collaboration?
What are the hindrances that music creators face when collaborating remotely?

After completing the interviews and survey, I uncovered deeper insights and patterns by synthesizing the data into an affinity map. To do this, I broke down my interview notes into data points which were then organized into thematic groups, and then further arranged into higher level groupings.


This helped identify common patterns across the data set and revealed 5 key attributes found in successful music collaborations, which in turn became the foundation of the platforms questionaire and matching feature. My research also informed my personas and journey map, and helped confirm my initial hypothesis that musicians value and seek out collaboration.

The following key insights were uncovered from the user interviews and survey:
"Working with people that have similar tastes is important...each person needs to be able to put themselves in the others shoes and understand how to think from the others perspective."
- User Participant 3
---
Defining the user and their journey
—
Personas
and
user journeys
were then developed from my research insights which consolidated the goals, behaviors, needs and pain points of my target users.
Storyboards were crafted to gain a better understanding of how target users may use the product and what feature set they would need to fulfill the goal of finding other musicians to collaborate with. A range of scenarios were developed, from a broad use case to more granular task-based stories.

From this activity it became clear that a profile page and search tool would be critical in helping users find each other.
A sprint map and task flows were developed to understand the steps a user would take to create a profile page and search for collaborators.

This process uncovered the key steps in the user journey (circled in blue below) and one new step: once a set of results has been produced from a search, how would users evaluate profiles? And how could the platform help make the evaluation process easier and more efficient for them?
A detailed
user flow
helped dissect the important wants and needs of the users. It connected each user task together and further fleshed out the features of the design solution. It became apparent that the solution would require an onboarding questionnaire which would identify a users tastes, goals and skillsets. The platform could then use these attributes to create a profile and match compatible users via a search.
In total
2 main flows and 4 key screens
were identified through this process:
Onboarding questionnaire: used to identify a user's personality, goals, taste/vision, skill sets, and technological capabilities.
Profile page: a public facing page created from the questionnaire.
Search page: used to search for profiles by genre, goals and skill sets.
Search results page: used by users to evaluate profiles.
Wireflows were developed to further understand the interactions needed for a user to complete the questionaire, edit a profile, search for and evaluate other musicans.


---
Ideation: from sketching to wireframes


—


Sketching

and

solution sketching

helped generate ideas and flesh out interaction details for the 4 main flows. Part of this stage involved looking at comparible existing products to find established patterns and frameworks so that users would have an easy time understanding the interfaces.
Above: Working rough concepts into solution sketches, and then into mid-fidelity wireframes.
Above: High-fidelity wireframes used for the usability tests.
---
Usability testing

—
I conducted 2 rounds of
user tests
in order to evaluate my ideas. I started with a
remote moderated test
on a mid-fidelity wireframes and tested my main two pathways, which indicated that the key features and workflow were understood, however it was discovered that some interactions and navigation components needed improvement and clarification. From these findings a high-fidelity prototype was developed which went through
further
remote and moderated testing.
I had a 100% success rate on users completing both flows, however users again indicated some less severe problems. The changes I made in turn informed the final high-fidelty prototype.
Testers were recruited from a
screener
posted on a songwriters reddit subgroup as well as through personal contacts. In total, 5 remote moderated user tests, 5 remote user tests, and 3 expert sessions provided feedback for the final high-fidelity prototype.
Usability test finding #1
Search results card was difficult to scan (Rd 1 + 2); some high level content and useful functionality was missing (Rd1); and match rankings were unclear (Rd 1+2).
Solution:
Change match ranking system to a more accurate percentage rating.

Add an audio sample and user location.

Improve visual hierarchy and group like content.

Consolidate actions together.
---
Usability test finding #2
Search bar field in the filter tab on the results page is difficult to use as it cut off their entry (Rd2).


Solution:
Allow for longer text entries by providing a larger search field.
---
Usability test finding #3
Language is ambigious, unclear, or too formal.
Solution:
Change 'Reviews' to 'Recommendations' or 'Endorsements'.

Replace formal language like 'collaborators' to more casual and conversational language.

Change ambigious language like 'technologies' to be more descriptive and conversational.
Consider implementing a help system.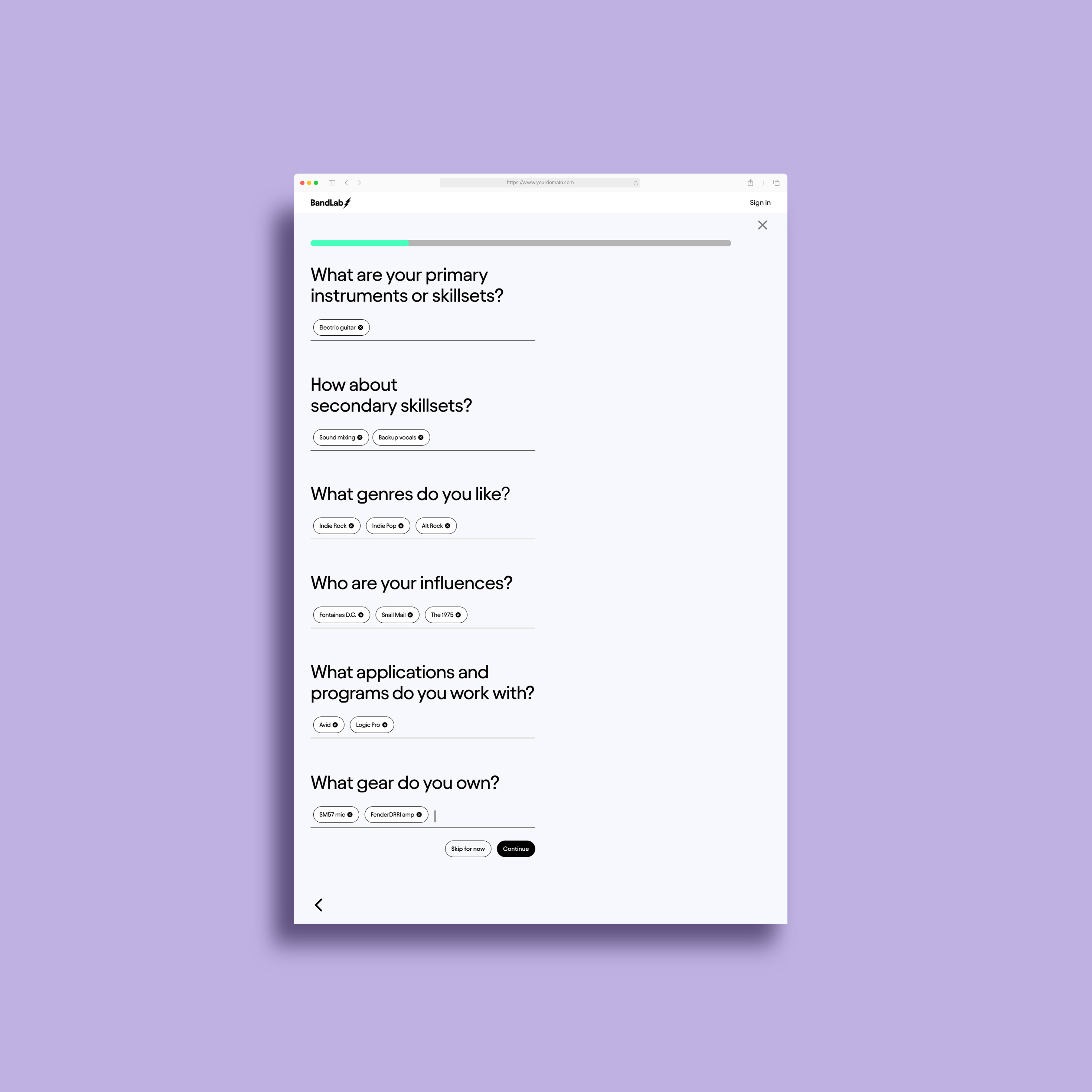 ---